Landyachting and a lot more Fun!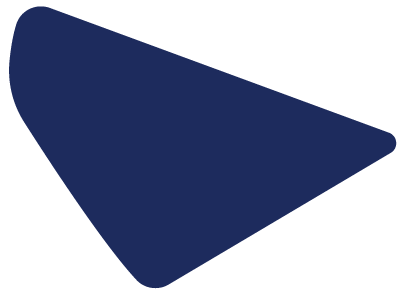 You feel like "blokarting" in Amsterdam? Good news! You came to exactly the right place! Okay, actually we don't use Landyachts made by Blokart, we use a bit nicer ones we think. Therefore we prefer to use the terms land- or sandsailing. But as we are conveniently located in the city, we prefer to use the word landsailing. 
You're more then welcome to come sail with us both individually as in groups. For groups, like bachelor parties, a friends day out, or business events we offer a lot more fun activities besides landsailing. We also have a nice restaurant on location, so we are able to offer you a complete day out, full of action and with great food and drinks.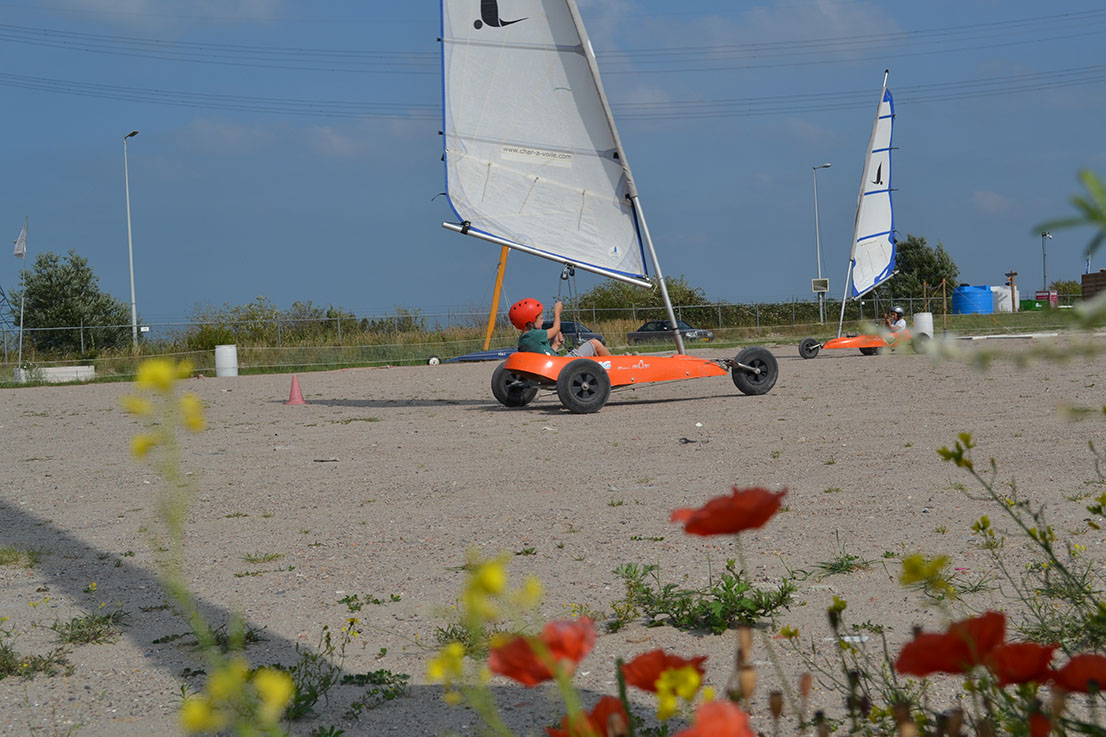 Obviously you want to throw the coolest b-day party EVER! For the most original and exciting parties for kids from 8 years and up, your in the right place. Landsailing, archery tag, bouldering or maybe even a combination. All that action is bound to give you an appetite, so of course you can end your party with a kids menu at restaurant KAAP.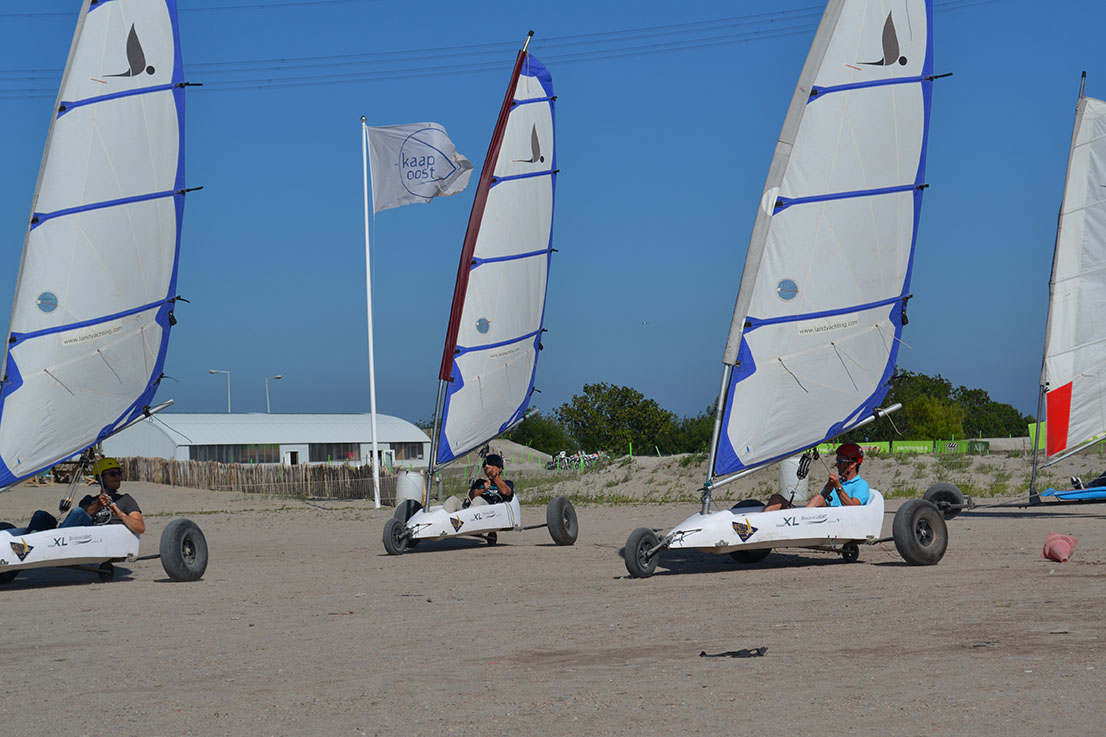 Looking for a healthy dose of action for a bachelors or group outing? Then you'll find more then enough to keep you entertained at the cape. Challenge your mates with a round on the SUP or archery tag! Or see who has the best landsailing skills. Afterwards you can recharge with a nice drink and exchange experiences at the bar.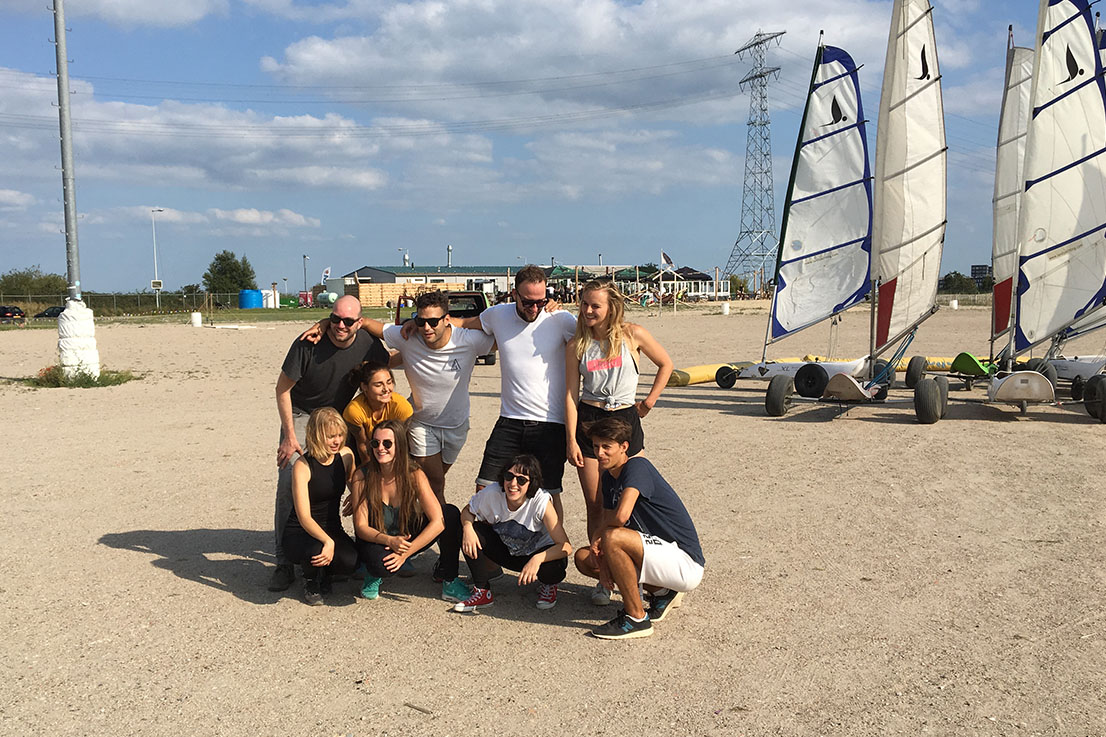 Want to break your daily routine, or gather inspiration and create new stories together? Especially for businesses we have plenty of opportunities. You can combine a meeting with activities, lunch, diner or even an amazing party. On our business page you'll find some inspiring examples.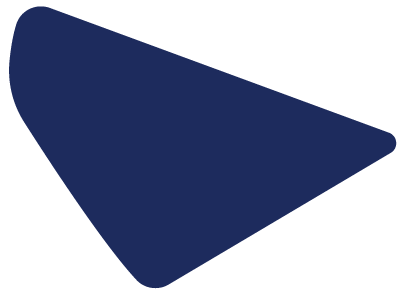 Our most popular activities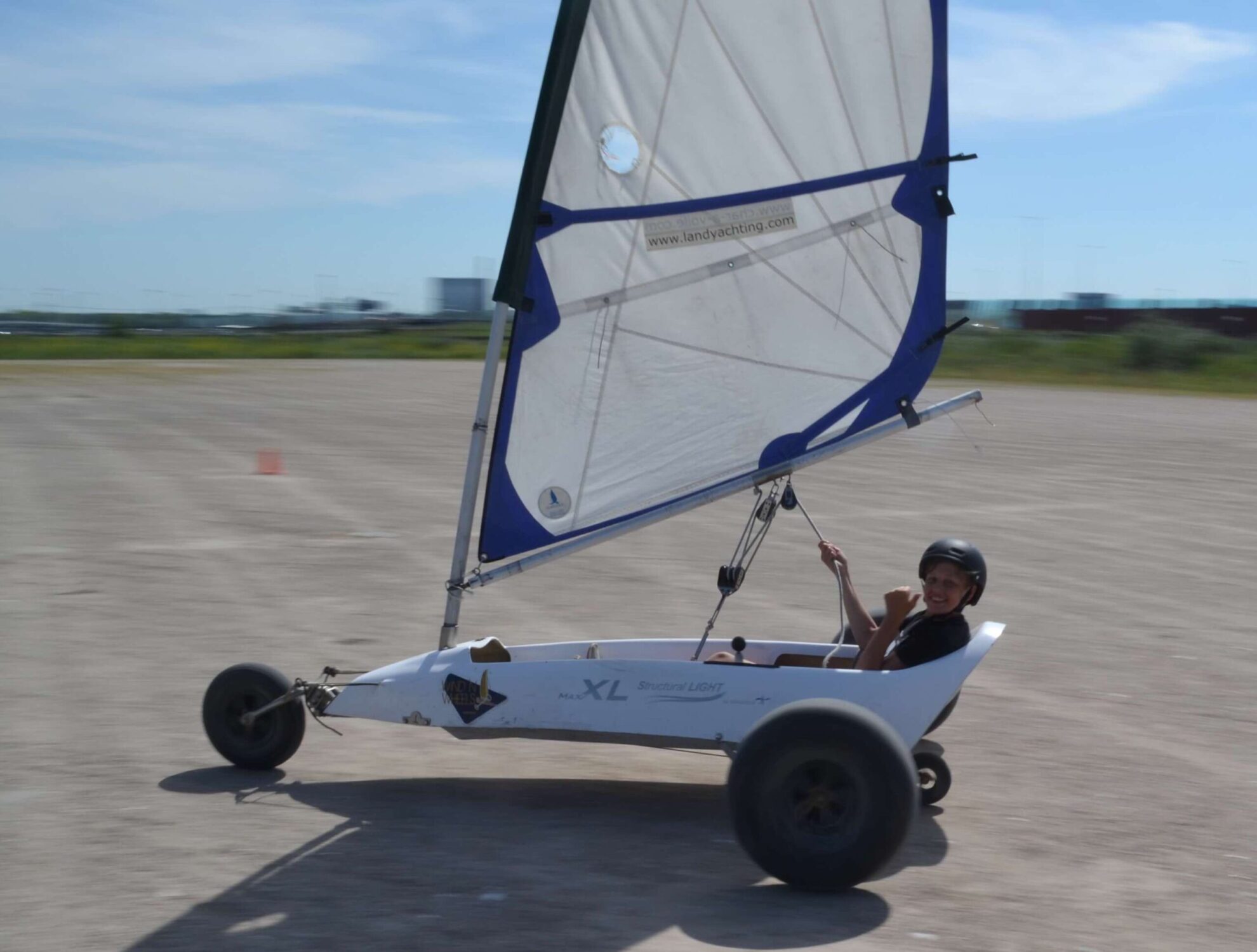 👤1-500
For those who want to get the most out of their land yachting experience, we recommend the 1,5 hour clinic.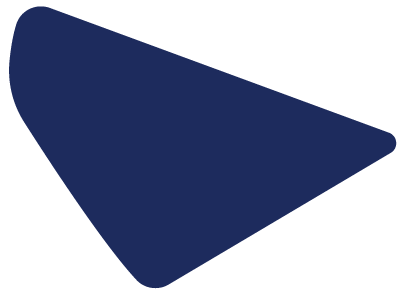 We started Wind 'n Wheels because we simple love landsailing. When the financial crisis hit, the municipality of Amsterdam wrote out a competition. Whoever had the best, most original idea with most added value to the city was allowed to start their business on that bit of land, that was foreseen not to be used otherwise for the coming ten year. So with our idea to make landsailing more easily accessible by bringing it to the city we where able to start Wind 'n Wheels. 
Over the years a lot has changed. Our original location is now being developed and have since then moved the whole venue to our current location, which we decided to call Cape East. There is a fresh new restaurant on our terrain called KAAP and we have a lot more activities in store for you.
Dank je wel voor het top feestje gisteren! Een van de beste feestjes éver hoorde ik terug van ouders…en dat ondanks weinig wind.
Visited wind n wheels at the weekend for a stag do. It was absolutely brilliant! Went on the electric skateboards which were great fun and then had snack and food, which were to a really high quality. The staff were friendly and sorted us out with a few beer tastings which was unexpected but appreciated. Spent several hours in the beer garden enjoying the music and service. Would definitely recommend, didn't want to leave! Thank you!
For the majority of our activities, no special attire is required. Do keep in mind we are outside mostly. SO dress comfortable  nothing to fancy because when playing outside there's always the chance of getting dirty.
Especially for the landsailing we recommend closed shoes. In the colder months of the year we recommend bringing a pair of gloves for the sailing. 
If your participating in the SUP, obviously bring some swimwear, a towel and a warm sweater. There's always a possibility you might fall in. 
We provide you with helmet, face protection and lifejackets where required. If it is a bit rainy we have overals available
Our place is basically a massive open terrain, suitable for the most diverse events. There's of course plenty of space to race around in a blokart. 
We have multiple heated indoor spaces, and toilets, that are multifunctional. Unfortunately we do not have any warm shower facilities.
On our terrain we also have a restaurant KAAP AMSTERDAM conveniently located. They shall attend to you f&b wishes.
Wind'n Wheels can easily be reached by either car, public transport or of course your trusty bike. 
Easiest of course is to just look for wind 'n wheels in google maps. But our adres is IJdijk 10. We offer free parking for our visitors. 
Tram 26 from CS takes you to the Bob Haarmslaan. From there its a short walk over.n go across the street, then straight ahead on to the dike along the IJ. Then go right and just straight ahead
On our location we work along side with KAAP. They wil take care of your food and drinks wishes. See: kaapamsterdam.nl
It is therefore not allowed to bring your own food and drinks. Exceptions for birthday cakes of course
Luckily we're pretty well able to predict the weather nowadays. Please keep in mind that it remains a prediction and can therefore not be 100% accurate or a guarantee. However looking at the forecast we should be able to tell you if it is possible to sail or not. Unfortunately we are only able to do this one maybe 2 days in advance. If we are not able to sail, we have sufficient other fun activities. So no matter what weather, your always able to do something fun at Wind 'n Wheels.
Frequently Asked Questions